Social media. It's a hustle.
Well, it's a hustle if you're doing it correctly. If you aren't utilizing a social media manager there are a handful of things you should be doing constantly to ensure that you are making the most of your social media presence.
If you are using a social media manager, this list might still be handy. If there is anything on here that isn't happening in your socials you might want to suggest it.
1.Staying on-brand
This isn't to say you can't throw in some fun things every once in a while, but generally your posts should stay true to your brand. You absolutely should share things that are re-shareable (it increases your overall reach). Just make sure that whatever is being shared is relevant to both your company and your brand but more importantly, to your clients. After all, if it weren't for your customers, you have no business at all.
I'm a big fan of sharing quotes. They're a major re-share "click-bait" and there are so many awesome quotes out there that can connect to brands, companies, people, you name it! These are posts that almost immediately get engagement from my followers and help build my brand and those I work with as more human.
So long as the quote is tangentially related to your work, it's okay. However, don't share weird or vulgar quotes or meme images (unless that's part of your brand, then so be it.) They might get clicks and attention, but the fallout isn't worth it.
2.  Monitoring your stats
The thing about social media is that the rules are always changing. Just because something worked when you started your social media accounts doesn't mean it will still work.
Take a look at your social insights. Are your followers responding to your posts? Have you lost a bunch of followers? Are there limited times of engagement?
Try mixing things up! There is nothing wrong with the trial and error process and – honestly – that's really all social media is at this point. Your followers might be seeing your posts at the wrong times or missing them entirely. Try posting different kinds of content at the times of day when your followers are the most active.
3.  Be careful with automatic posting sites
Automatic posting sites like Buffer or Hootsuite can be incredibly useful in automating your social media posts. But be careful, if you use too many at once, you may lose visibility.  I've seen more than one account I've managed on Facebook face shadowbanning as a result.
Definitely utilize those automated services if you want to, but don't forget the power of organic posting on your own.
4. Be human
This seems like a no-brainer worth mentioning. Sometimes businesses get so caught up in being businesses that they forget to be human. Your followers aren't just following a business or a brand, they're following you!
Don't forget to bring some personality into your social media channels. The more genuine self you put into them the more your followers will appreciate what you have to say. It also increases the likelihood of commenting or sharing because followers tend to share posts that their friends will be interested in.
No one shares tweets from Wendy's because they're financially sound or business savvy.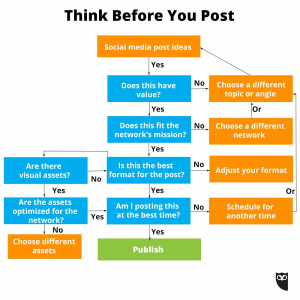 5.  Quality versus quantity
There are charts all over the internet that reference how often and when to post on social media, but as Sendible rightly points out there is no secret formula that works for everyone. For some businesses posting several times a day is what their following wants. For some other brands posting once a day is sufficient.
The magic formula for social media success is simply found in looking at your stats. If what you're doing is working, great! If it's not working, change it!
Let us know how we can help you with your social media or your reach with mobile application features.